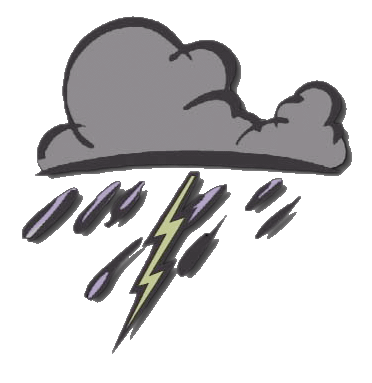 Hurricane Preparedness & Lightning Safety
Thanks to El Nino, last year's hurricane season was very quiet. This year, weather forecasters predict a more active season. Hurricanes can be very scary events for children, who may not understand what is happening, or why. You can minimize the risk of fear and injury during a hurricane by making sure that your family knows what happens when a hurricane strikes, and that everyone is well prepared for the storm. Hurricane season officially starts on June 1 and runs through November 30.
What Is a Hurricane?
A hurricane is the largest of all storms. A storm is officially classified as a hurricane when the speed of the wind reaches 74 miles per hour. Hurricanes are severe tropical storms that form in the Atlantic Ocean, Caribbean Sea, Gulf of Mexico and in the Pacific Ocean. Hurricanes gather heat and energy through contact with warm ocean waters. When they come onto land, the heavy rain, strong winds and heavy waves can damage buildings, trees and cars.

Hurricane Watches & Warnings
Watch: Hurricane conditions are POSSIBLE within about 36 hours. Your family should start getting prepared and stay tuned to television or radio for weather updates. In the event of a hurricane, WPBT has partnered with WFOR and will be broadcasting their storm updates and complete hurricane coverage.
Warning: Hurricane conditions are EXPECTED in the warning area within 24 hours. All of your family's hurricane preparations should be complete and all of you should be together in a safe place.

Hurricane Preparedness
Talk about what it is like to be in a hurricane and let kids take an active role in creating a Family Hurricane Plan. Here are some guidelines for formulating a plan:
Decide in advance where the family will stay during a hurricane and have a back-up location.
Select an emergency meeting place in case family members get separated and be sure each family member knows how to get to the location.
Ask someone from out-of-town to be the emergency contact. Tell them where you will be in the event of a hurricane and make sure everyone knows the phone number.
Decide who will pick up the children from school if both parents work.
Make arrangements for family members that require special care.
Figure out where pets will stay during a hurricane.
Hurricane Supply Kit
Put together a hurricane supply kit long before a hurricane threatens the area. Kids can help gather the following items that should be included in the kit:
Non-perishable foods (canned soups & meats, canned milk, fruit & vegetables; peanut butter)
Water (one gallon per day per person)
Flashlights, with extra bulbs
Flashlight & radio batteries
Non-electric can opener (punch holes in cans or remove lids before heating)
Cooking supplies
Personal necessities
Baby and pet needs
First aid supplies
Extra prescribed medication
Copies of important documents and back-up discs of your home computer files
Lightning Safety
Anyone who lives in Florida knows that summer is the season for afternoon thunderstorms. But did you know that lightning can strike even when it is not raining? At the first sign of thunder or dark clouds, be on the lookout for lightning! Make sure to know the following basic rules of lightning safety (these apply for adults, too!):
When it looks like it's about to storm, or if thunder can be heard, stop all activity and take shelter inside a building or a car.
Never talk on the phone during a storm, as an electrical charge can travel down the phone line and cause serious injury.
Do not swim, take baths or showers, or otherwise come in contact with water while it's storming.
If unable to go inside, avoid tall, isolated objects like flagpoles, telephone poles, or trees. Never ever take shelter under a tree during a thunderstorm.
In open spaces, look for a low area and crouch down. Don't lie flat on the ground, but drop to your knees and bend forward putting your hands over your ears.
Do not stand close to other people if outdoors in a storm. Spreading out lessens the chances of getting struck.